Nice market: discover our guide of the Nice markets (products, opening days and hours, address)
Nice has a wide range of markets: food markets, clothing and secondhand goods markets, and flea markets. If you are on vacation in Nice and want to eat local food with fresh products from the region, or if you are a local looking for the schedules of the markets in Nice, here is our guide dedicated to the markets in Nice: all the markets, as well as their opening hours and days.
Marché Aux Fleurs (flowers, food and antiques)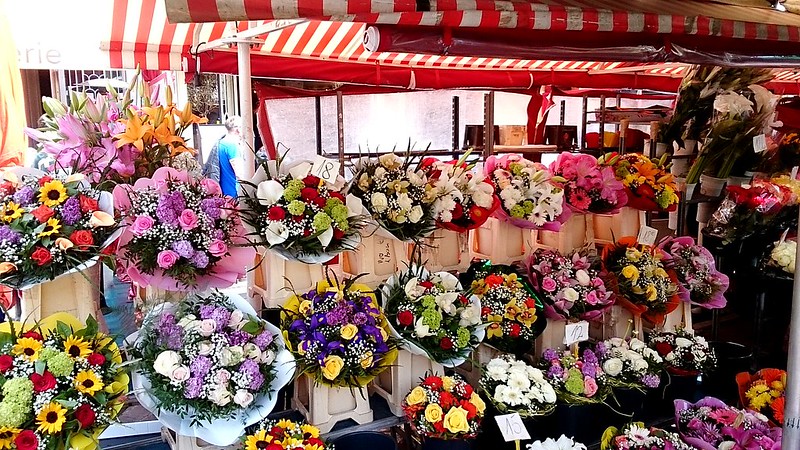 There has been a flower market on Cours Saleya since 1897, when farmers came with their flowers, which were then shipped by train to different parts of Europe. Once the large quantities of flowers were sent, wholesalers would allow the locals to buy the unsold stock. Wholesalers now go to a different market, and this flower market is now home to fresh food from the region. It is the ideal place to have (breakfast) under one of the striped awnings while watching the lively market. If you come on a Monday to the flower market, you will only find antiques.
Opening hours :
Food market from Tuesday to Saturday from 6am to 5.30pm. Sunday from 6 am to 1:30 pm. Antique market from Monday 7.30 am until the end of the afternoon.
Address :
Flower Market, Cours Saleya, Nice
Marche Aux Poissons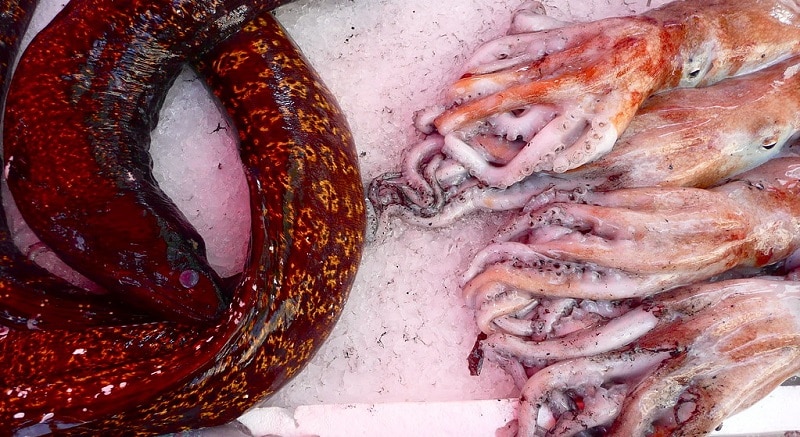 The fish market in Nice has existed for centuries and offers the beautiful local catch of the day, fish and seafood. This market is closed on Mondays. Arrive early to make sure you find exactly what you want. Local fishermen can also help you with their favorite recipes. The Place Saint-François was refurbished in 2018, so for a while the fish market in Nice was Place Jacques Toja. The market returned to Place Saint-François at the end of 2018.
Hours of operation :
From Tuesday to Sunday, from 6am until the fish is exhausted (about 1pm)! Closed on Monday.
Address :
Fish Market, Place Saint-François, Nice
Liberation Market (food)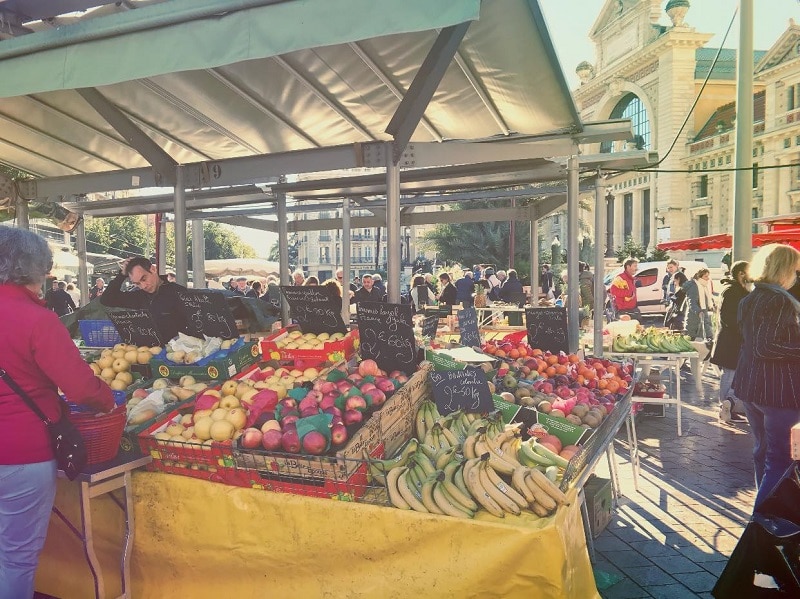 This market is less frequented by tourists than the flower market, but it is much larger and more popular with the local population. As a result, products are generally cheaper and the market is less crowded. The flower market offers the equivalent of everything the flower market has to offer (flowers, fruits, vegetables and local products such as cheese and bread) but there is also a covered market dedicated to butchery and delicatessen.
Opening hours :
Tuesday to Sunday, from 7 am to 1 pm. Closed on Mondays.
Address :
Marché de la Libération, Place du Général de Gaulle, Avenue Malausséna, Nice
Puces de Nice (antiquités)
View this post on Instagram
At the foot of the Old Port, you will find a multitude of antique dealers that make up the Puces de Nice. It is an excellent opportunity to find small gemstones, antique jewelry and objects for the home in a magnificent setting.
Opening hours :
From Tuesday to Sunday, from 10 am to 6 pm (7 pm in June, July and September). Closed on Mondays.
Address :
Puces de Nice, Rue Robilant, Nice
Place Garibaldi (antiquités)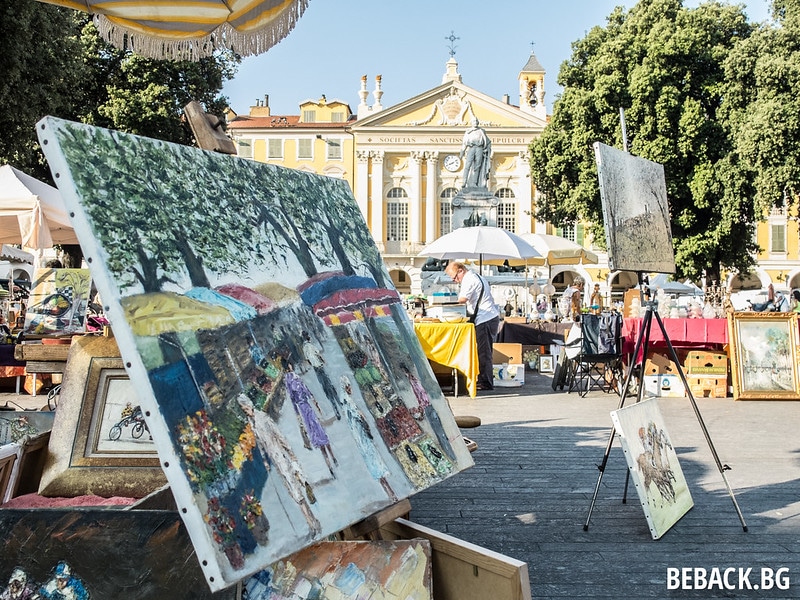 Place Garibaldi is a beautiful square in the center of Nice. Once a month, the antique dealers organize a flea market where you can find antique objects, old paintings and other nice pieces of junk.
Opening hours :
The third Saturday of each month.
Address :
Place Garibaldi, Nice
Place du Palais de Justice (second-hand books and antiques/art handicrafts)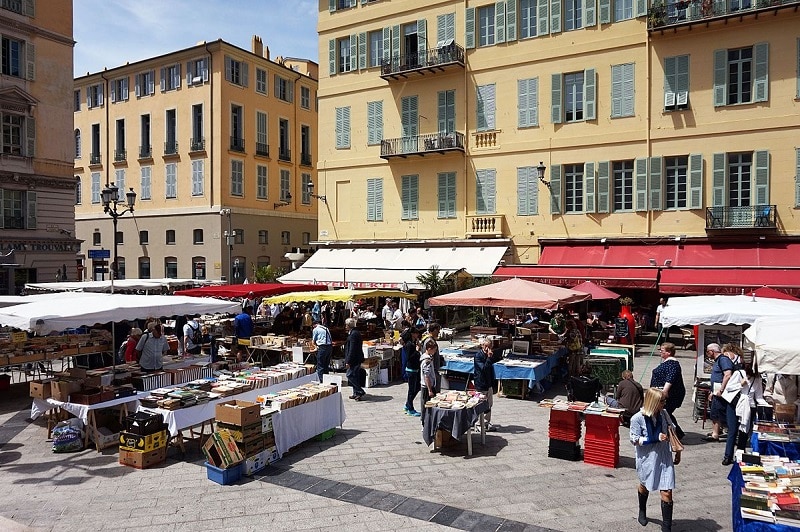 The Courthouse Square is a great place to find arts and crafts made by local artisans (second Saturday of the month) or old postcards (fourth Saturday of the month). The first and third Saturdays of the month are dedicated to second-hand books and antiques. An ideal place to stroll, stroll and have a coffee.
Opening hours :
For arts and crafts every second Saturday of the month. Second-hand books and antiques every first and third Saturday of the month. Old postcards every fourth Saturday of the month.
Address :
Place du Palais de Justice, Nice
Quai de la Douane (antiquités)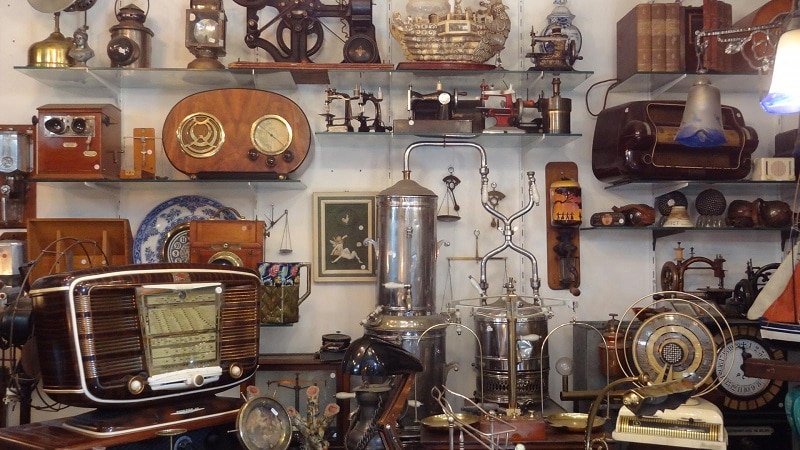 On the first Sunday of each month there is an antique market on the quay of the port. Arrive early to make good deals.
Opening hours :
From 7:00 a.m. to 1:00 p.m. on the first Sunday of each month.
Address :
Quai de la Douane, Nice
The garage sales and flea markets of Nice
Garage Sale
People frequently sell their unused objects and clothes at the markets and flea markets of Nice on weekends. Some enthusiasts go there to do bargains and find the rare gem, while others like to stroll through the aisles of these ephemeral flea markets. You will find here you will find updated information on the dates and times of the yard sales and flea markets in Nice.
The Big Flea Market
Every year, all the stores in Old Nice and the city center also sort through their items and sell them at reduced prices on the street stalls. It is a great event in the city of Nice where tourists and locals mingle and swarm in the streets in search of the right bargain. The Grande Braderie de Nice takes place at the end of the summer, in September or October. Keep an eye on the social networks and the city of Nice website for more precise details on the day and time of the Grande Braderie.
Ventimiglia Market
Every Friday there is a big market across the border in the city of Ventimiglia (Ventimiglia) in Italy. In Italy it is called Il Mercato del Venerdi. Well this giant market is not in Nice, it is only a short distance away and it is really worth mentioning. This is the day when everyone comes into town – to buy, to sell or just to watch. And they sell everything – handbags, fish, clothes, fruit, flowers, etc. – in the city. Not to be missed, but watch out for counterfeit goods!
Opening hours :
Every Friday, from 6 am to 6 pm in summer, and from 6 am to 5 pm in winter.
Address :
Piazza Libertà, 3, Ventimiglia, Italy
The local experience of the Nice markets
One of the great pleasures of a visit to Nice is to stroll through the open-air markets along the Cours Saleya. Flowers of all colors and shapes come to life. Rows of spices follow one another. Depending on the season, you can taste grapes the size of golf balls and olives shining in the sun. The stalls offer some shade even on the hottest days of summer and you are surrounded by the streets of Old Nice. The setting is therefore ideal! Did you know that the Conseil National des Arts Culinaires has classified the Cours Saleya as one of the exceptional markets in France?
Nice's various markets offer something for almost every taste: an antique market, a craft market, an antique market, a fish market, and even a second-hand book and postcard market. During your visit to Nice, you can find a market to visit every day.