If you're looking for information on where to sleep in Menton, you've come to the right place!
On the border of the French Riviera, right next to Italy, is the charming, old and beautiful seaside town of Menton. This is the French Riviera without the crowds and modern developments. One takes pleasure in strolling through the old town, in the shade of fragrant citrus fruits, along narrow cobbled streets, past rustic 13th century mansions and beautiful houses in pastel colors shining in the sun.
It is hard to understand why Menton is so often ignored, especially since it is located in the hottest region of France with its almost subtropical microclimate. It has a multitude of museums and art galleries, a former convent and many gardens. Beautiful, full of history, culture and gourmet restaurants, it is the almost perfect vacation destination. Our list of the best places to stay in Menton includes a modern and chic hotel inspired by the work of the most famous character of Menton, the great Jean Cocteau.
Browse through our list of the best places to stay in Menton to start planning your stay.
A chic hotel by the sea
The hôtel Napoléon de Menton is a chic and modern hotel with a tree-lined terrace and a swimming pool. The elegant interiors are characterized by a Mediterranean palette of blues, whites and lemon, with elegant contemporary furniture. The bright rooms feature a similar palette with Cocteau-inspired artwork, a theme that has continued throughout the hotel. Superb.
Hotel in Menton
To sleep in Menton, you will have the choice among more than 130 hotels.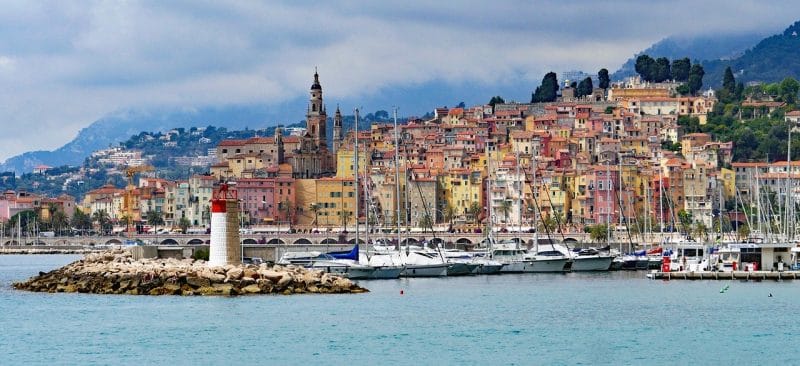 In addition to hotels, you can rent a vacation home for your accommodation in Menton.
Find a vacation rental in Menton
Apartment for rent in Menton
You can also choose to rent an apartment in Menton.
Find an apartment for rent in Menton
To live as close as possible to the premises, you can rent a Bed and Breakfast to sleep in Menton.
Map of the best hotels where to sleep in Menton
The interactive map below shows the hotels where to stay in Menton. The rate for one night as well as the overall rating of the hotel is indicated directly on the map. Click on the icons on the map to view additional information about each hotel.
Not to be missed during your stay in Menton
Visit the Carnoles Palace, summer residence of the Princes of Monaco, where the city's art museum is located, which presents paintings from the 13th century to the present day.
See the Monastery of the Annunciation, the place around which Menton was built.
Best time to visit Menton
Often referred to as a microclimate, the climate of Menton is different from the rest of France. Sheltered by the Maritime Alps, it enjoys a mild climate.
However, the temperature can change quickly and can sometimes be unpredictable. The best time to visit Menton is from May to September.