Where to taste the best socca in Nice? Here is our guide of the best places to eat the famous speciality of Nice.
Socca is a local specialty of the French Riviera, which can be tasted especially in Nice. The Socca is a little less famous than the other local dish, the salade Niçoise, is no less delicious. It is a snack that looks like a very thin pizza baked in the oven and prepared with chickpea flour. We have detailed a little more the origins and the recipe of the Socca.
Today, we list the best addresses to taste Socca in Nice.
Chez Thérésa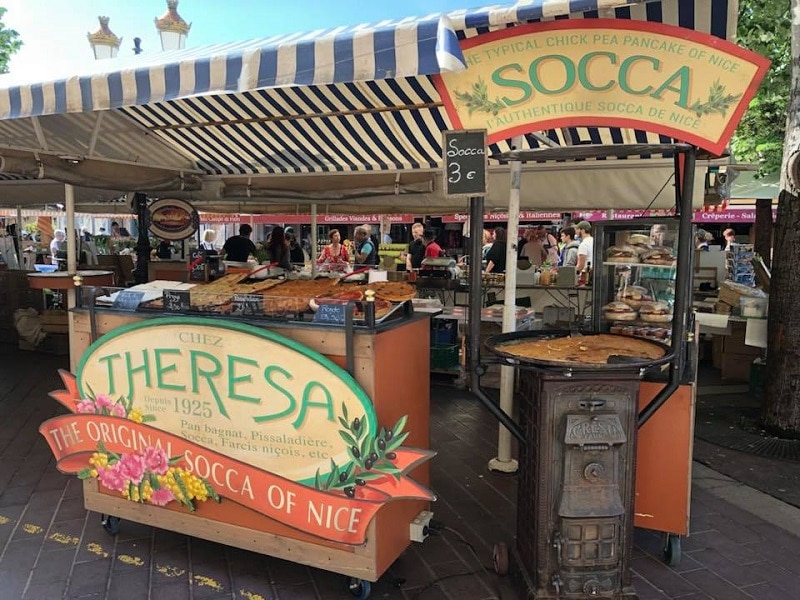 Theresa began selling Socca at her stand in the Cours Saleya in the 1920s. Legend has it that she knew everyone and delighted everyone with her crazy stories. There have been several incarnations of "Theresa" over the years, but there has always been someone at the stand selling Socca to locals and tourists alike. The Socca is baked five minutes away and a bike delivery man comes to bring hot slices. Delicious.
Price: 3€ per share of Socca
Hours of operation :
Every day from 9am to 3pm.
Address :
Chez Thérésa, 28 Rue Droite, Nice
Chez Pipo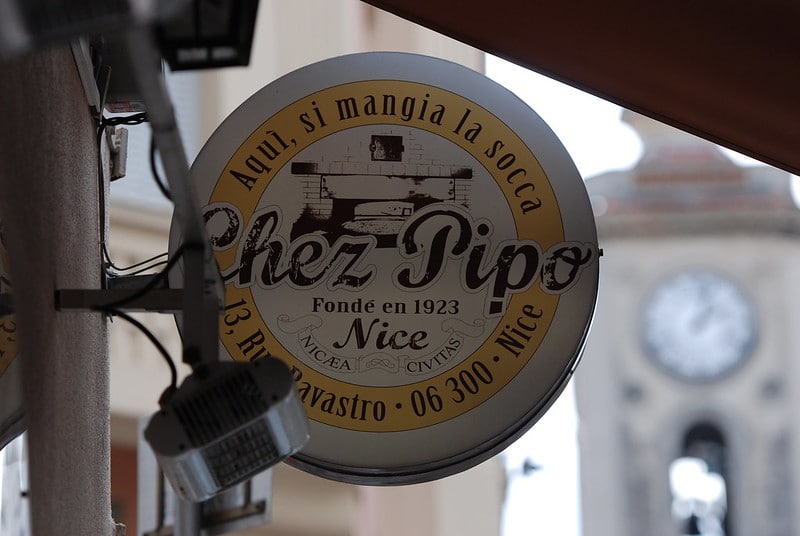 Chez Pipo was founded in 1923 and the restaurant hasn't changed at all since the first socca was served there. The brick oven, the central element of Chez Pipo, continues to produce dozens of soccas a day that locals and tourists alike enjoy in the warm and friendly atmosphere of the restaurant's interior, decorated with photos of Nice in the Belle époque, or outside on the shady and refreshing terrace.
Rate: 2.9€ per Socca share
Hours of operation :
All year round from Wednesday to Sunday, from 11:30 am to 2:30 pm and from 5:30 pm to 10 pm. During the summer season, Chez Pipo also opens on Tuesdays from 01/07 to 15/09.
Address :
Chez Pipo, 13, rue Bavastro, Nice
Lou Pilha Leva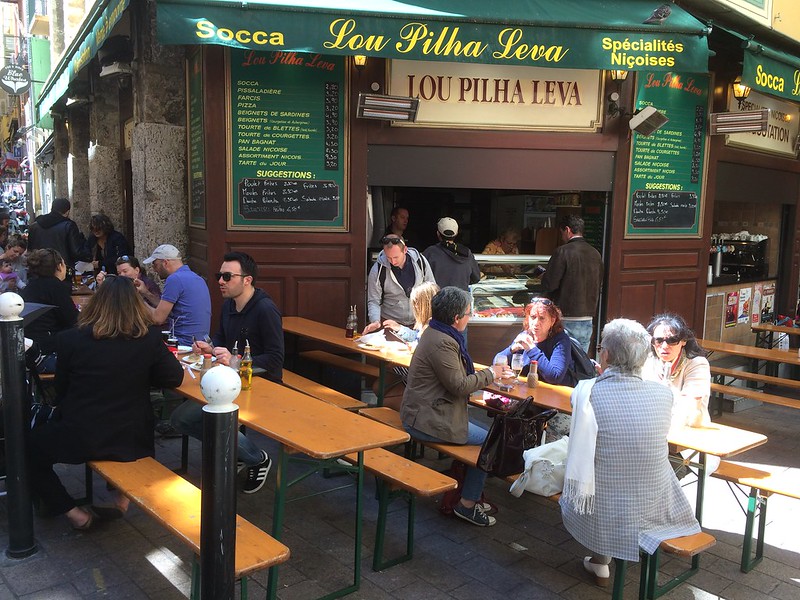 Lou Pilha Leva is specialized in socca and is an institution in Nice. Luckily, the weather is often nice in Nice: there is only outside where you can sit at one of the long tables and get to know the locals over a drink and a socca. The restaurant is rudimentary but very popular. The big advantage is that it is open all day until late, even on Sundays.
Price: 2,8€ the share of Socca
Hours of operation :
Open all year round. Every day from 11am to 10pm.
Address :
Lou Pilha Leva, 10, Rue du Collet, Nice
Chez René Socca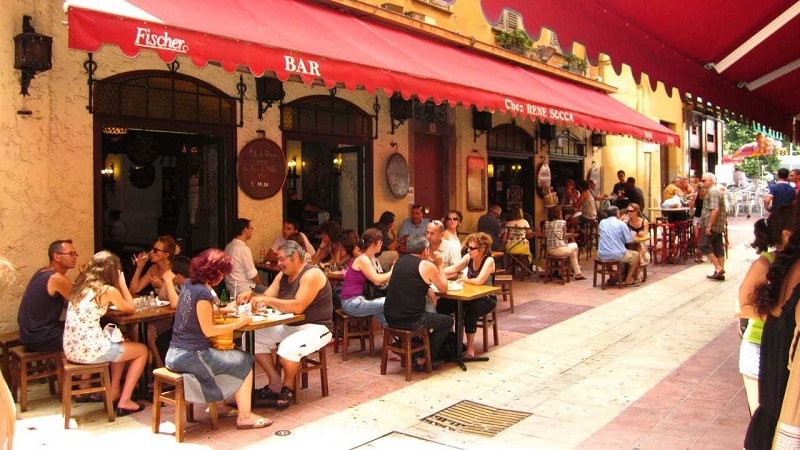 If you feel like a late night take-out snack, look no further than the rue Miralheti in Nice. It is close to the Place Masséna, where you will also find many other takeaway possibilities. Go to René Socca's, and enjoy your share while strolling around the city or sit down at one of his tables. A cheap (and reasonably healthy) way to eat in Nice.
Price: 3€ per Socca's share
Hours of operation :
Open all year round. From Tuesday to Sunday from 9am to 9pm non-stop (10pm in July and August).
Address :
Chez René Socca, 2, Rue Miralheti, Nice
Socca d'Or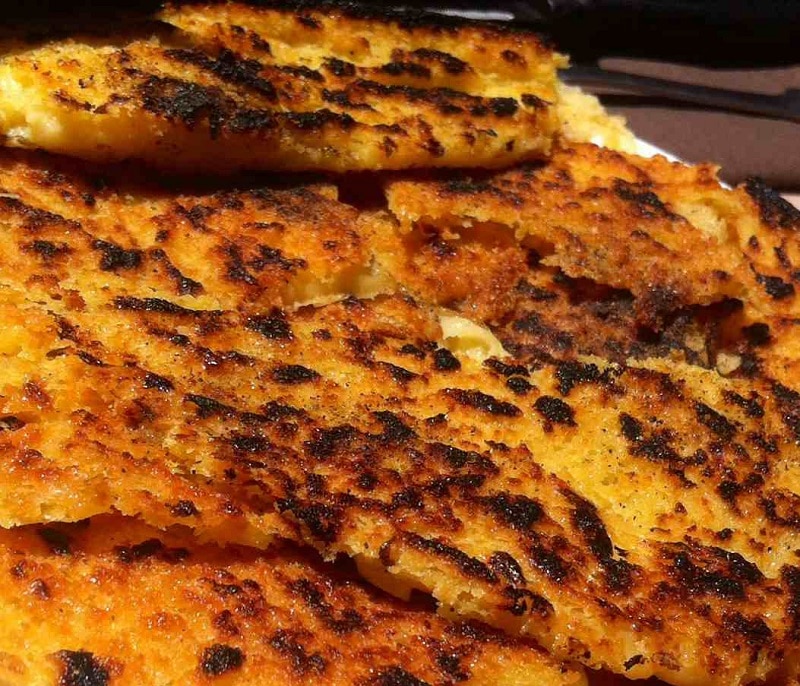 In the "Petit Marais Niçois" district, not far from the port of Nice, Socca d'Or offers a fine and crispy socca. Here, the spirit of the merenda, the Nice snack, permeates the place. The dishes are simple, tasty and generous.
Price: 3€ per share of Socca
Hours of operation :
Open from 10:30 am to 2 pm and from 6 pm to 10 pm every day of the week except Wednesday and Sunday.
Address :